Tailor-made intranet solutions, just for your business
Experience an intuitive, cost-effective Intranet Solution meticulously tailored for Microsoft 365, enriched with supplementary modules for Analytics and Document Management.
Effortless implementation and user-friendly experience
Deploy Mercury, our cutting edge Intranet solution, in your Tenant or SharePoint environment within 1 day, thanks to its seamless setup process.
Built on Microsoft 365 components, knowledge, making updates and usage effortless
"Intelligent Decisioning have brought a much needed level of organisation and vigour to the way we stored and organised our documents across our group. We now have a known and trusted "single source of the truth" for our organisation wide information that is reviewed on a regular basis."
LTE Group
Tailored branding and personalisation
Customise Mercury Intranet to perfectly align with your corporate branding and culture, ensuring a cohesive and personalised experience for your organisation.
Continuous innovation and automatic updates
Stay up-to-date with automatic software updates that bring new features directly to your Intranet Solution, thanks to our software assurance.
Experience ongoing enhancements and improvements without any hassle.
"Working with Intelligent Decisioning was a great experience and we've benefitted a lot as an organisation. We look forward to continuing our journey of Digital Transformation with them"
Blue Property Management
Streamlined communications and intuitive directory
Effortlessly keep everyone in your business up to date with streamlined internal communications.
Quickly search for employees across your organisation with our user-friendly People Directory, finding the right people when you need them.
Enhanced collaboration, powerful search, and efficient document management
Foster increased collaboration within your business using integrated social functionality that drives teamwork and engagement.
Utilise the robust SharePoint search to locate documents instantly right from your Intranet home page, saving time and effort.
Find, collaborate, and share documents seamlessly across teams and departments with our Document Centre, ensuring document compliance and readership using our DocUTrack module.
"Intelligent Decisioning very quickly got to grips with what we needed for our processes and delivered a quality system that is ensuring we remain "Globally recognised certification for protection, regulation and compliance."
Assay Office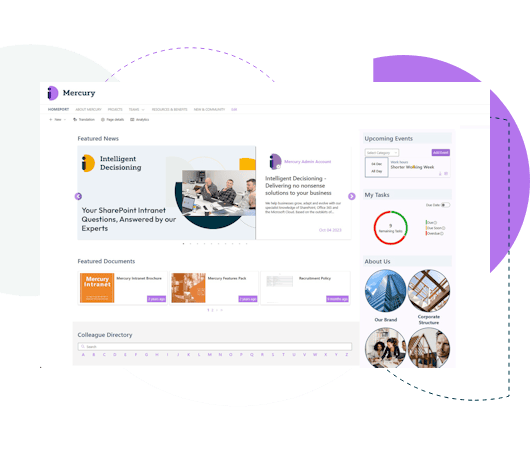 Simplified onboarding
Streamline employee onboarding through an easy-to-use knowledge base and step-by-step walkthrough wizard.